THE MAGIC OF LIGHT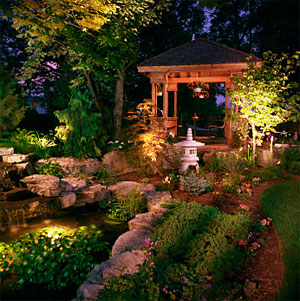 If you're like most people, you've probably spent a good deal of time and effort getting your patio pulled together in hopes of relaxing this summer. It's easy to do. With so many beautiful furniture sets and accessories you can create your own back yard resort.
The truth is, most of us only have time to relax after work and dinner. By that time it's dark. If your outdoor areas aren't properly lit, it's not going to get used often. Plus, you can't see the most beautiful parts of your landscape.
Beyond safety, lighting can transform the look and feel of your outdoor spaces. Outdoor lighting has come a long way from the six standard up lights that come in the box at your local hardware store.
When properly designed and lit, a quiet garden tucked in the back of the yard becomes a secret garden. Soft pools of light glow beneath various plants, while other areas can be lit higher and brighter. Water features can reflect light from hidden sources. Using low voltage landscape lighting will allow you to highlight the pathways to your door or garden.
After all the planning, planting and furniture purchasing, it's only a patio until it is touched with the magic of light.
Breezy Hill Lighting Design
Professionals understand the best way to accent the architecture of your home, and then incorporate the landscape lighting into the design. The more experience your designer has, the better the results. Breezy Hill's lighting team is driven by a passion for originality and innovative technologies. We combine the newest, most exciting designs and technology to bring you outdoor lighting that is beautiful, energy efficient and easy to maintain.
At Breezy Hill Nursery, our designers use Kichler landscape lighting products. Every Kichler landscape lighting product features architectural-grade materials, including marine grade aluminum, premium copper-content brass, stainless steel fasteners and powder coated or stainless steel transformer housings. Kichler landscape lighting products are among the most recognized and reliable fixtures in the lighting industry and all of the lighting products are UL listed for your safety and peace of mind.
Great landscape lighting is designed to complement your outdoor setting and the mood you want to create. Our designers have created country charm with winding paths, butterfly gardens and gazebos. We've styled sophisticated urban landscapes with infinity pools and dramatic focal points. Your own landscape lighting design may include lit pathways, a deck or patio or maybe a pool or water feature. No matter what your style, lighting is the perfect medium of creative expression to set your home apart. Explore the possibilities of low voltage lighting design and bring a little magic to your home each night. Contact us for more information.
Lighting Maintenance
Our specialized training and experienced staff allow us to service your routine outdoor lighting maintenance needs as well as handle unexpected repairs in a timely manner. For more information please contact us.