Creating a summer oasis one step at a time
Outdoor living space is becoming increasingly important for today's busy lifestyles. It's definitely on the must have list of new homebuyers. Not only does outdoor living space add value to your property and increase curb appeal but it adds to the functional entertaining space of a home.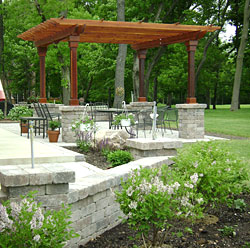 Add a few extras to your patio this year
A paver patio is a great addition to any landscape, and it can be made even more appealing with the architectural and beneficial features of a hand crafted pergola. A pergola can provide much needed shade in the hottest parts of the day while still allowing for sun to penetrate in moderate amounts. Wood screening can allow for privacy while still adding architectural elegance to a landscape. Lighting, a ceiling fan, and even a grill and bar area could be added to make your outdoor living experience grander.
Choosing the right materials for your landscape projects
Just like choosing the right hydrangea to fit in your landscape it's important to pick the right materials and stains for your pergola, gazebo, arbor or deck. The natural look of western red cedar can accent any landscape but the stain will allow you to personalize the look making it unique and one of a kind. Some materials require regular maintenance and if you have a busy lifestyle, you should consider other options. Maintenance free vinyl makes for a great construction material and allows for easy cleaning. For the eco conscience consumer Breezy Hill Landscaping has eco friendly materials such as a composite wood or vinyl, which is manufactured from recycled materials.
Breezy Hill Landscaping's Handcrafted Structural Elements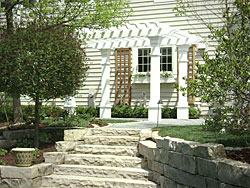 The craftsmanship behind your architectural element is very important to the success of your landscape. Maintenance free materials still need to be installed properly for them to survive the conditions of our climate. Using exotic woods such as IPE or tiger wood can make a desirable statement, but they need to be carefully installed and treated for you to enjoy for many years.
When it comes to adding a construction element to your landscape, your best bet is to go with something hand crafted and professionally installed. Each of our construction elements is specifically handcrafted for you, making each piece unique and one of a kind. If you have a small space to work with, we can design something that is right for your area. Each project is monitored from start to finish and only completed when both our carpenter and you are both satisfied with the work and final product. It is through this construction process that we have developed the great working relationships that our clients love and expect.
Decking And Railing Options:
Variety of composite materials
Western Red Cedar decking and railing
Pressure treated decking and railing
Exotic hardwoods (IPE and Tiger Wood)
Pergola And Arbor Options:
Western Red Cedar (Smooth or Rough sawn finish)
Heavy timber construction
Standard dimensional lumber
Gazebos
Pressure treated Pine
Western Red Cedar
Vinyl