Keep Your Garden From Turning Into A Bambi Buffet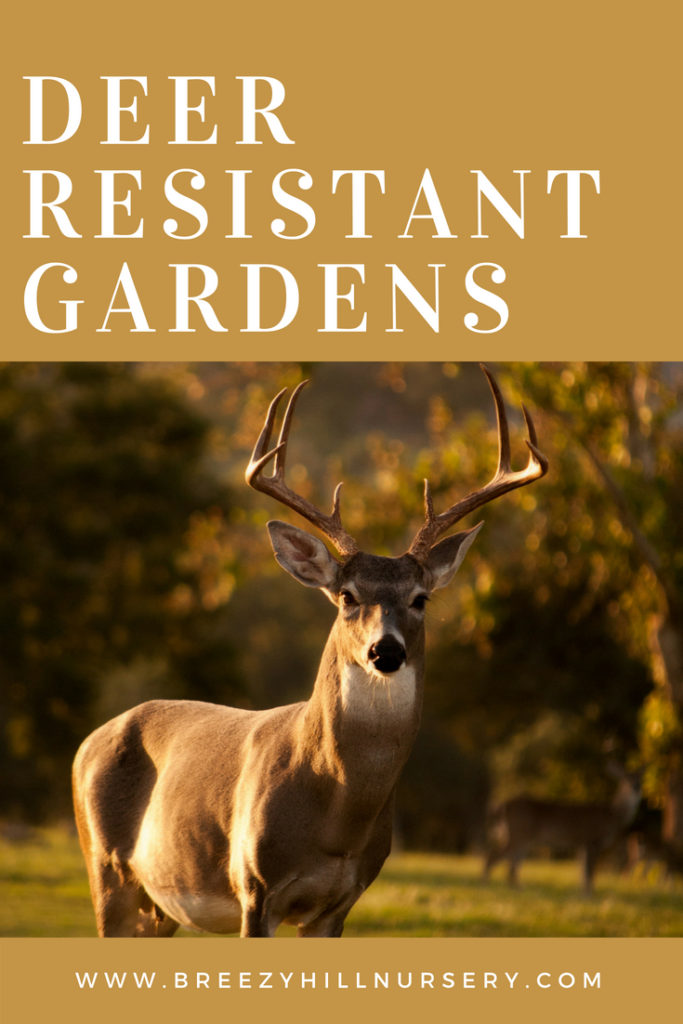 BY KARI-LYNN O'NEIL
I'll bet 99% of the people about to read this article will pop up and run to the window the minute they notice deer in the backyard. And everyone is excited… until the graceful neck of a doe dips down and nibbles off the tops of your hostas.
It's a love/hate relationship neither side is going to win. While you can't eliminate deer from gobbling up your favorite plants, you can use some strategies that will at least stack the odds in your favor. Here's how to make a deer resistant garden.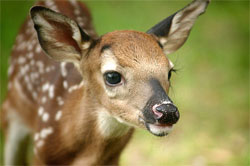 Don't Set The Table And Expect Them Not To Eat
Deer don't understand that they aren't welcome in your garden, so if you insist on planting what they love you'll be the first stop on their list. If you absolutely love a deer-licious plant, then protect it. As a rule, the more likely the deer are to eat a plant, the closer you should plant it to the house. Very few deer will stand at your window and eat from a flower box.
If deer are a problem, it's best to avoid these tasty treats:
Trees: Balsam & Fraser Fir, Crimson King Maple, Eastern Redbud, Cornelian Cherry Dogwood, Apples, Cherries, Plums
Shrubs: Burning Bush, Azaleas, Tea Rose, Yews, American Arborvitae
Perennials: Columbine, Bishop's Weed, Japanese Painted Fern, Wallflower, Clematis, Wintercreeper, English Ivy, Hosta, Daylily, Candytuft, Lily, Solomon's Seal, Trillium, Tulips, Periwinkle
Plant And Hope For Picky Eaters
Native plants developed their own defenses to keep from being eaten. Also, if there is an abundance of a plant, you won't have anything special to offer. The following list includes plants generally safe from Bambi and friends here in the Midwest if the winter is bad enough and the food is in short supply all bets are off.
Trees: Maple, Birch, Catalpa, Smoke Tree, Beech, Ginkgo, Honeylocust, Kentucky Coffee Tree, Juniper, Magnolia, Spruce, Bald Cypress
Shrubs: Barberry, Boxwood, Cotoneaster, Forsythia, Holly, Magnolia, Potentilla, Rhododendron, Spirea, Lilac, Yucca
Perennials: Lavender, Yarrow, Artemesia, Butterfly Weed, Astilbe, Larkspur, Bleeding Heart, Iris, Lupine, Bee Balm, Peony, Salvia, Onion, Lamb's Ear, Fern's, Black-Eyed Susan, Lily of the Valley, Foxglove, Coneflower, Gayfeather, Russian Sage, Pincushion Flower, Spiderwort, Beardtongue, Monkshood, Ajuga, Poppy, Daffodil
Deer Resistant Gardens – Make Them Yucky
Make the plants taste so yucky that, once they sample them, the deer move on. There are many recipes and commercial replants that use this method. Soap, mothballs, garlic, chili sauce, rotten raw eggs, mustard or bitter compounds found in nail-biting deterrents. Keep in mind that this won't keep them from trying them, just from completing the feast. Usually.
Here are a few sources for recipes and comparisons as to what works best.
Keep Them Out
If deer are a big problem in your area and you insist on growing their favorite foods: roses, fruit trees, vegetables, amply watered ornamentals — you need a fence. 8 feet high, sturdy fence, anchored deeply, with no gaps at ground level. Deer can jump over and squeeze under about anything if they're hungry enough.
I have my own favorite tip:
You Get Some, I Get Some
I'm not a big fan of the apples that grow off my tree. There are too many to use, and I have to little time to use them anyway. So I share. A tree's worth of apples each Autumn and some plants I don't have time to take care of at the back of the yard keeps them happy and the rest of my garden free from munching. Sure, it's not picture perfect back there, but this is Wisconsin. A foot of snow hides just about any backyard flaw.
NOTE:  Any of our sales associates here at Breezy Hill Nursery would be happy to answer your questions about planting and caring for your tree.  Call us at (262) 537-2111.
If you have gardening questions please call or stop by our garden center.
You might also enjoy this post about trees.