Check out some gardening and landscaping tips below for October to help you with planting and care for the month: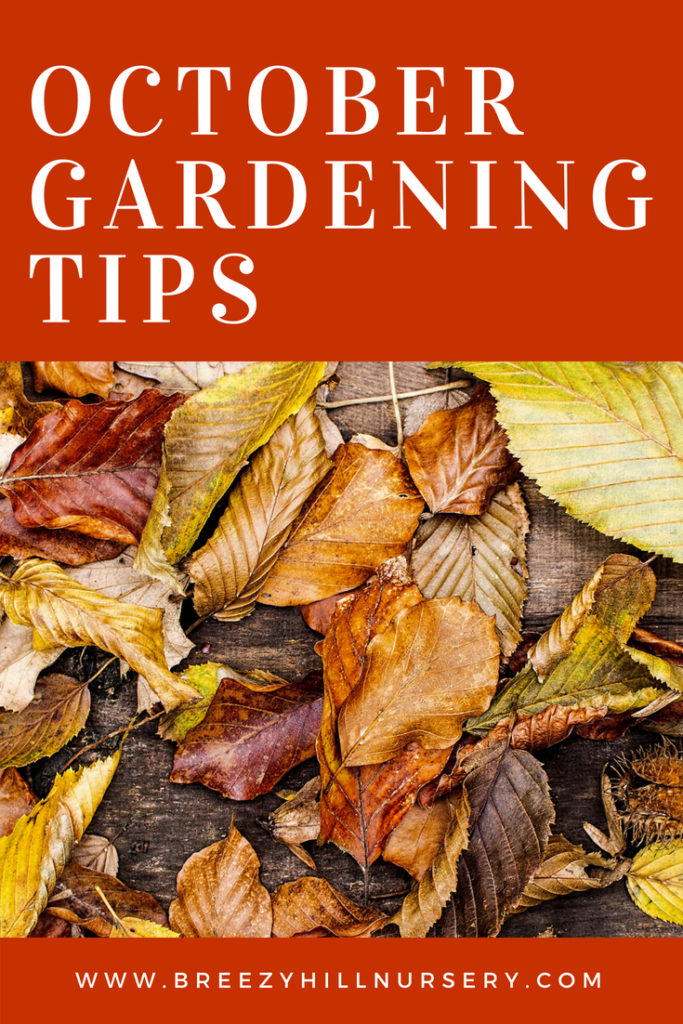 Fall is a great time to plant. Actually, it's almost like a second spring. In fall, the warm soil and cool temperatures promote great rooting and establishment of plants.  Now is the time to plant shrubs, trees and evergreens to give them plenty of time to establish their roots before the upcoming winter.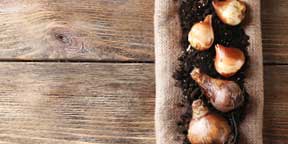 October is a great time to plant spring flowering bulbs like tulips, daffodils and others. If you did not plant them last month, there is still time. The earlier they are planted, the better the chances that they will develop substantial root systems before soil temperatures get too low. Once the ground has started to freeze, apply a light mulch to the later planted bulbs. This may prevent the ground from freezing and allow the bulbs to root better.
October is commonly wet enough, but if there is insufficient rain, water newly planted shrubs and landscape roses.
There is still time to reseed damaged places in the lawn. But, by the middle of the month it will be risky to seed. The plants will germinate but may not be big enough to survive the winter.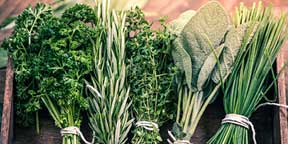 Dig up parsley, chive, rosemary, thyme, basil oregano, sage and any other herb you may need for the winter. Shake off as much soil as you can and pot them using artificial potting soil. Garden soil will not work in pots. Herbs can grow under the lights until you need them for planting. Or set them in a cool, bright window and clip off sprigs as you need them.
It's not too late to move geraniums indoors for the winter. Save only the best, cleanest plants. If you don't have a bright, cool place to grow them indoors, simply knock the soil off the roots and cut the tops back so that they fit in a brown paper grocery bag. Hang them in a cool place in the basement or storage until spring.
Almost all deciduous shrubs can be planted in the fall. The rhododendrons and the shrubby small fruit are best planted in spring, however. Container grown, balled-and-burlapped, and bare-root plants are once again plentiful in the nurseries and garden centers.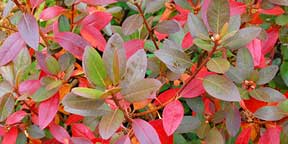 Bright, sunny days and cool nights bring out the best in the fall color of shrubs. The sumac has been bright red for weeks and is now joined by Burning Bushes, Choke Cherries, Spice Bushes, Smoke Bushes, Hedge Maples, Arrowwood Viburnums, Witchhazels and more.
October is about the latest you will want to plant ground covers and vines. Soak new plants thoroughly to settle the soil and provide sufficient water for winter.
Some ornamental grasses hold up well into winter with their flower heads persisting. The seeds of some provide for small birds in early winter.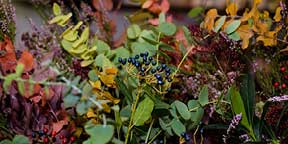 Some garden annuals make good dried flowers. While the plants are still in good condition, pick fully open flowers. Asters, Zinnias, Blue Salvia, Straw Flowers, Globe Amaranths and some others dry well, resist shattering and maintain their color. Tie them in loose bunches and hang them upside down in a warm, dry place. A fan will speed up the drying process. For fleshy flowers, use a drying agent such as silica gel. Layer the flowers in a box and cover them with the material. Either process you use, once they are dry, use the flowers to make arrangements. The holidays are near, dried arrangements can add to the festive mood.
Continue pulling out stakes and removing cages in the perennial garden as the plants finish for the year. Clean any stakes and tools and store them where you can locate them next spring.
Finish cleaning up the garden. Chop up the old plants and spread them over the garden. Make good use of fallen tree leaves to improve the soil in your garden. Any kind of organic matter will improve the soil, whether it is heavy clay or sand. Spade the organic matter into the garden. Leave the soil rough so that winter rains and frost will mellow it.
Prepare to bundle up the upright evergreens and other plants that tend to be spread apart by the snow load. But, do not cover the plants with plastic. They will be cooked on sunny days even if the temperatures are quite low.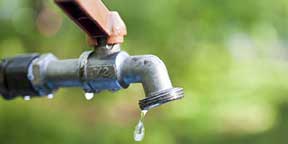 If you haven't already, be sure to schedule your irrigation and water feature shut down. Shutting down your irrigation system before pipes freeze will ensure your system is in the best possible condition for next year.
If local ordinances such as in rural areas permit the burning of leaves in your neighborhood, burning them is a way of reducing their bulk. The leaves cannot stay on the lawn or they will smother the grass. If there are not too many or if the leaves are tiny, shred them with your mower and leave them where they fell. They will filter into the lawn where microorganisms will decompose them, recycling the nutrients. This is beneficial to the trees and to the lawn. Remove larger leaves or great volumes of them by raking, vacuuming or picking them up with a power mower and bagger. Like help with this project? Give Breezy Hill a call and schedule your fall clean up today. 262-537-2111.