The snow and cold weather is upon us, here are our December Gardening & Landscaping tips! We want to help your landscape look its best for spring and give us a call with any questions or requests for services that we can help you. As the winter season settles in you want to be prepared.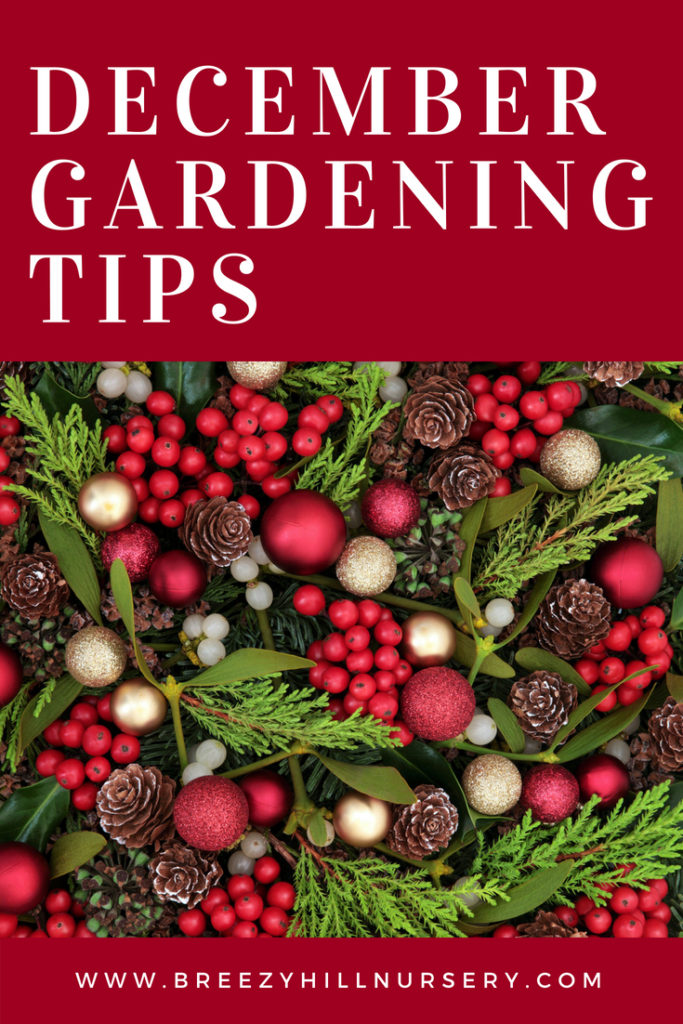 Evergreens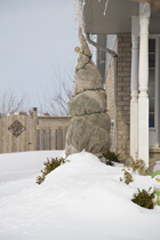 Bundle upright evergreens with burlap or binder twine. Do not cover them with clear plastic or they will be cooked on sunny days. Limit pruning to removing damaged branches.
Apply an anti-transpirant like Wilt Pruf to protect your broadleaf evergreens (Holly, Boxwood, Azalea, Rhododendron) from the harsh winter wind.  This will reduce stress, moisture loss and winter burn.
Dormant pruning is not only healthier for the plants it saves you time in spring.  Prune dormant ornamentals, shrubs and trees through the winter season.
Winter can be harsh. Make sure you have your plants protected accordingly with deer protection, rose protection and tree wrap.
Remember to brush snow from your evergreens as soon as possible after snowfall. The snow's weight can bend or break branches.
Color and Style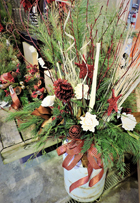 Add some color and style to your home and entry. Decorate your planters for winter with festive evergreen boughs, red twig dogwood branches and colorful berries. Let us help you make the most of your winter landscape with some winter interest like winter containers. Our garden center can help you and we have classes to help you with your creativity.  Check them out here www.breezyhillnursery.com/events
Before the ground freezes, make sure to water your newly planted evergreens, shrubs and trees to give them that extra moisture they need through the winter.  If it is a mild winter you may need to water them again in January.
Smooth barked trees such as Maples need their trunks wrapped with horticultural tree wrap for the winter season to prevent the trunk from developing frost cracks. Although Mother Nature usually heals these wounds over time, they can be aesthetically unattractive. If you haven't wrapped your smooth barked trees yet, it's not too late to do it now! Stop into our garden center soon to pick up a roll of tree wrap to protect your trees for the winter season.
Prepare & plan for spring.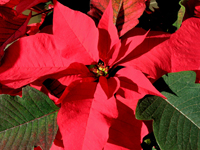 Poinsettias are in full "bloom". Keep them away from drafts, cold or warm and water lightly as the soil dries. These plants are beautiful for the holidays and you can find them in our garden center.
Arrange to have your lawn mower blades sharpened during the winter. Sharp blades will cut the grass cleanly and evenly, preventing a dull looking lawn. Getting it done in the slow winter months means less to do in spring, so you can enjoy your lawn and garden more.
With cold temperatures and winter snows, many little critters such as rabbits and mice are looking for a food supply to sustain them thru the season. Your plants could look very appealing to these furry fellows! The best way to protect plants is to put a circle of ¼ inch mesh hardware cloth fencing around the base of the plant. Make sure the fencing is at least 30 inches high (well above the snow line) or the critters will hop the fence and get inside to start nibbling. It's important also that the base of the fence is buried into the ground a bit or that it's pinned to the ground with sod staples…otherwise, the critters could squeeze under the fence.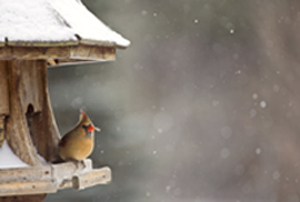 Keep your bird feeders full with sunflower seeds, thistles, cracked corn, suet or suet & peanut butter, raisins, apple pieces or commercial seed mixes. Remember, the more birds that survive the winter, means fewer slugs in spring and summer.

Have you seen our breathtaking blue tree on the corner of hwy.50 & B? Let our experienced team assist you with your holiday decorating and create a custom look for your home and landscape.
Call Breezy Hill Nursery at 262-537-2111.