---
Donations & School Tree Plantings/Educational Days
At Breezy Hill Nursery we are passionate about our involvement in the surrounding community and local events. Whether it's teaching students how to properly plant, care and value the benefits of trees or through the giving of donations.
Here are recent community events Breezy Hill has been involved in:
Donations:
Habitat for Humanity – 3rd Annual Golf Outing
Wisconsin Green Industry Federation
Lake Front Artist Fair
Lake Geneva Symphony Orchestra
Bristol Progress Days
Trevor – Wilmot Grade School
Benefit for Victor Apolo
The Brompton Community Partnership
First Lutheran Church & School
Earth Day & Arbor Day School Visits And Tree Plantings
Bristol School – 2015
St. Al's – 2015
Waller Elementary – 2015
Trevor – Wilmot School – 2014
Wheatland J1 School District – 2014
Brighton School District #1 – 2014
Randall Consolidated School – 2014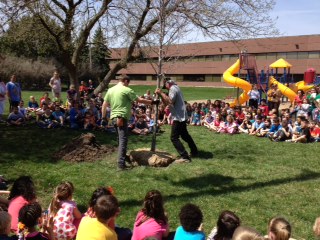 MG: Arbor Day, (2012) at a local school. Breezy Hill Nursery had the opportunity to share with students how to properly plant trees and the benefits of trees.
If you have an event you would like to see Breezy Hill Nursery involved in, e-mail us at [email protected]